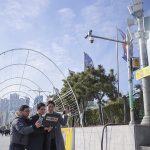 The equipment included is: Broadband Access, Microwave & Optical Transport, Mobile Core & Radio Access Network and SP Router & Switch.
The collective global share of the leading suppliers remained relatively stable between 2020 and 1Q21, with the top seven vendors comprising around ~80% of the total market.
Huawei is No.1. Nokia and Ericsson are about the same at No.2= and Samsung rose to No.6.
The shift from 4G to 5G continues to accelerate at a "torrid pace", says Dell'Oro, impacting not just RAN investments but also spurring operators to upgrade their networks.
Suppliers did not report any material impact from the ongoing supply chain shortages in the first quarter. At the same time, multiple vendors did indicate that the visibility going into the second half is more limited.
Dell'Oro is adjusting the aggregate forecast upward and now project the total telecom equipment market to advance 5% to 10% in 2021.